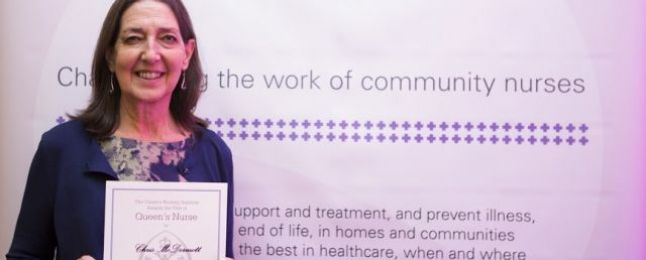 Monday 14 November 2016. Mrs Chris McDermott, a Specialist Practitioner School Nurse and Practice Development Lead within our Children and Families service, received the prestigious title of Queen's Nurse (QN) at a ceremony on Monday 14 November at the Royal Garden Hotel in Kensington, London. 
Chris says: "I am delighted to have received the Queen's Nurse Title and I understand that this year the QNI was overwhelmed by applications, so I feel very proud to have been chosen. I am now looking forward to representing the school nurse profession at regional and national events, disseminating best practice, contributing to working groups and influencing national policy makers."
The title, which is awarded by community nursing charity, The Queen's Nursing Institute (QNI), indicates a commitment to high standards of patient care, learning and leadership rather than being an award for past service. Nurses who hold the title benefit from developmental workshops, bursaries, networking opportunities and a shared professional identity. There is one award ceremony a year.
Nurses have to submit an application covering six different sections that demonstrate commitment to learning, leadership, nursing practice and standard setting. Each application has to be supported by documentation and submissions from the nurses' line manager, peers and patients/clients. All of the evidence is then assessed by a panel. There are two panels a year and only a limited number of titles awarded. 
Dr Crystal Oldman, Chief Executive of the QNI says: "Congratulations are due to Chris McDermott for her success. Community nurses are expert professionals who make a vital contribution to people's health and wellbeing every day. As a national charity the QNI can share innovation and best practice, supporting nurses to deliver excellent healthcare to patients in local communities."
Chris joins 1030 other nurses around the country to be given the Queen's Nurse title.