Executive Team
CSH Surrey's Executive Team are responsible for the operational delivery of services.
Chief Executive

Stephen Cass
Stephen brings more than 25 years of healthcare experience to the CSH leadership team, and importantly too, a passion for personalised care and improving health outcomes.

Stephen is a strong advocate of collaborative working, having worked within primary and secondary care, mental health and community services. He joined the NHS after qualifying as Chartered Accountant in London and has held a variety of Board level roles within the NHS and the private sector. These include Chief Executive and Finance Director positions in Kent, Sussex and the West Country. He has recently led one of the country's first population-based prime-providers for MSK services.

Chief Operating Officer

Victoria Griffiths
Victoria Griffiths, a Pharmacist, joined CSH in 2014 as Director of Adults. In March 2015 she became Director of Clinical Services, responsible for Children and Families, and Adults Services, and in April 2017 took up the role of COO. Prior to joining CSH Surrey, Victoria was Associate Director of Operations for Theatres, Anaesthetics, Surgery and Critical Care at Ashford & St Peters Hospital NHS Fundation Trust. Previously, Victoria held the post of Chief Pharmacist at Frimley Park Hospital NHS Foundation Trust.
Director of Quality and Nursing

Ellie Hayter
Ellie is a Registered Nurse by profession, with 30 years' experience of working within the NHS. She has experience within acute medicine, cancer and palliative care and community health services. Her career to date includes adults, children and young people, nursing and therapies , Safeguarding Vulnerable People and quality governance.

Ellie has led NHS organisations through Care Quality Commission and NHS Improvement inspections and regulatory compliance reviews and is passionate about the delivery best practice and individualised care every time. She is a Specialist Advisor to NICE and has also worked abroad to support countries re-establish healthcare provision post war. She is an active member of national and local Patient Safety Collaborative and is keen to hear the patients' voice always.
Director of HR and Communications

Rhona Mason
Rhona Mason joined CSH Surrey on 24 August as Director of HR & Communication. Rhona has over 20 years HR experience and joins from Moat, a large housing association based in Kent. She is a Fellow of the Chartered Institute of Personnel & Development and has a post-graduate qualification in Employment Law. Rhona was keen to work for an organisation that makes a real difference and was particularly drawn to our culture, values and co-ownership model.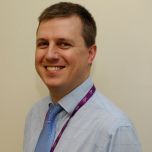 Director of IM&T

Will Lewis
Will joined CSH Surrey in November 2015. He has a strong background in developing IM&T services for health organisations and a good understanding of our employee owned social enterprise model having worked for another employee-owned community interest company before joining CSH Surrey.